A man suspected of starting a fire that has destroyed 13,000 hectares of pine forest in France was questioned over a similar alleged crime a decade ago, prosecutors said, when a burning heat wave broke temperature records across Europe.
A lot of cooler air on Tuesday brought relief to France's Atlantic coast after 63 municipalities set new temperature records, but firefighters fought huge fires in the southwest, even though the heat wave was moving north and east.
The western city of Nantes recorded 42C on Monday, beating an earlier high of 40.3C set in 1949, while the north-western port of Brest reached 39.9C, erasing the 2002 record of 35.1C.
Several night temperature records were also set, including at La Hague in Normandy, where 32.8C was recorded at 03.00 on Tuesday. Officials said the entire west coast of France, from Landes in the south to Finistère in the north, was affected.
The worst forest fires were in the southwestern Gironde ward, where firefighters struggled to contain fires that lasted two weeks at La Teste-de-Buch and Landiras, and a third at Vensac that broke out Monday night.
Prosecutors in Bordeaux said a motorist told investigators he saw a vehicle speeding away from where the Landiras fire started on July 12, and that he tried but was unable to extinguish the flames. Investigators found evidence of arson.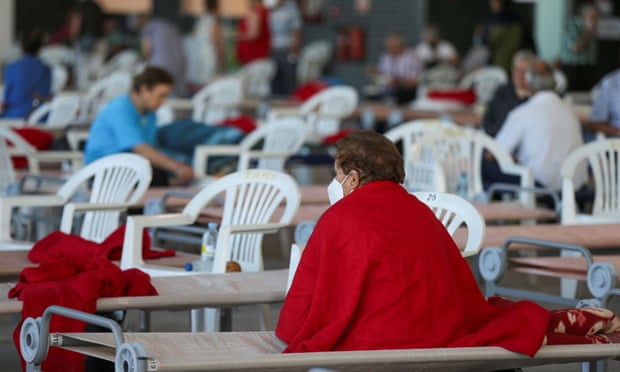 A 39-year-old man who was questioned on Tuesday lives in Gironde and was questioned in 2012, suspected of having started a forest fire, officials said. The investigation was shelved in 2014 due to lack of evidence, they added.
Elsewhere, the British record was broken at Heathrow Airport in London, where temperatures reached 40.2C just after lunchtime on Tuesday. The head of the UN weather bureau said he hoped the heat wave would act as a "wake-up call" for governments.
Petteri Taalas, secretary general of the World Meteorological Organization, said: "I hope that even in democratic countries, this type of event will have an impact on voting behavior."
Meteorologists said on Tuesday that the mass of warm air – the second to cover the continent in recent weeks – had begun to move into eastern France, Belgium, the Netherlands and Germany, all of which were heading for temperatures of around 40C.
The Dutch KNMI weather service said temperatures could peak at 39C, issuing a code orange extreme weather forecast in the center and south of the Netherlands, while Belgium issued its highest warning level as forecasters predicted temperatures of 40C plus.
Large state museums in Brussels took the unusual step of offering free access to people over the age of 65 to help them stay cool, while in Amsterdam, workers sprayed water on mechanical canal bridges to prevent expanding metal from blocking them.
In Germany, two firefighters were injured while tackling a forest fire in Saxony. The weather has created fears of drought, and the German farmers' association warns of the risk of "large losses" in food production.
When the European Commission announced that drought warnings were in place over 46% of the block's territory, with 11% at emergency level, forest fires in France, Spain and Portugal continued to ravage dry forests and heather moors.
Nearly 2,000 firefighters are battling the three fires in France, which have destroyed a total of more than 19,000 hectares of mainly pine forest. More than 37,000 people have been evacuated from the region, including 16,000 on Monday alone.
Patrick Davet, the mayor of La Teste-de-Buch, said: "It is heartbreaking. Financially, it will be very difficult for them and very difficult for the city because we are a tourist city and we need the tourist season. "
Five campsites from which 6,000 holidaymakers were evacuated last week near the Dune of Pilat, Europe's highest dune, were "about 90% destroyed", a local official said.
An area 9 km (5.6 miles) long and 8 km wide was still on fire near the dune, and the fire "blew things up", such was its violence, said Marc Vermeulen, head of the local fire service. "40-year-old pine trunks are about to crack."
Elsewhere in France, a fire that started last week near Avignon in the south-east revived on Monday, local firefighters reported, while a separate fire broke out in Brittany.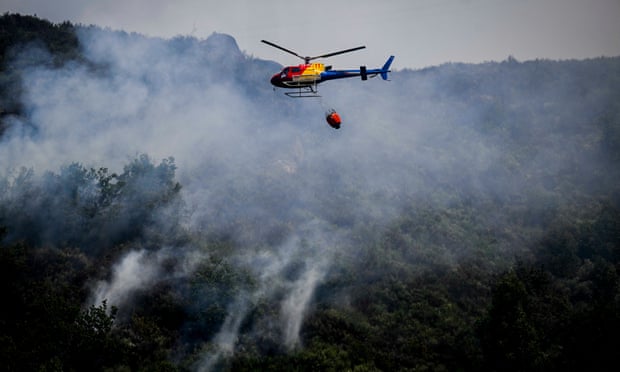 No deaths have been reported so far in France, but in Spain, where more than a dozen fires continued to rage on Tuesday, a fire in the northwestern province of Zamora killed a 69-year-old shepherd after a firefighter died in the same area Sunday. .
On Monday, it was reported that a man in his 50s died of heatstroke in Madrid. Rail traffic between Madrid and Galicia in the northwest remained suspended after fires on either side of the tracks.
Near the northern town of Tábara, a forest fire raged over a field, engulfed an excavator and caused the driver – who had tried to dig a fire escape – to run for his life while the flames burned the clothes from his back. He was taken to hospital.
In Portugal, 1,400 firefighters fought 10 forest fires in the north. The death toll from the fires doubled to four on Monday after a car with two people drove off the road while trying to avoid a fire in Vila Real in the north, officials said.
Sixty people have been injured in more than a week of fires across Portugal. "We found the car and these two people, aged around 70, completely burned," said Murça Mayor Mário Artur Lopez.
In Athens, huge clouds of smoke filled the sky late on Tuesday when a forest fire driven by stormy winds tore down the mountain Pendeli. Greece's climate crisis and the Ministry of Civil Protection ordered residents of the Ntrafi area to evacuate their homes while firefighters on the ground and in the air fought the flames.
The country's Open TV channel showed pictures of the fire that engulfed homes and burned cars that were left in garages while people fled the scene. Witnesses said the fire moved at lightning speed over Pendeli.
Experts blame climate change for the current heat waves and note that more frequent extreme weather will only worsen, posing an increasing threat to life and livelihoods for at least the next 30 years.
Further reporting by Helena Smith in Athens